Tesla And E-LVT Mini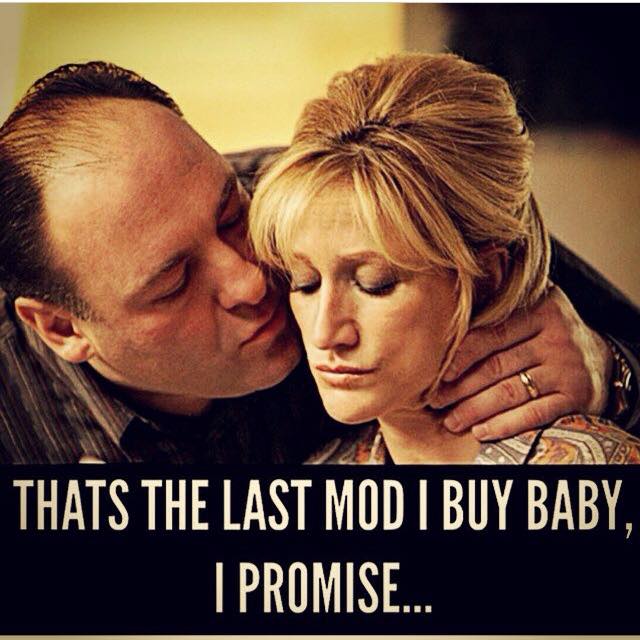 Well, fortunately for me, I don't have to ask someone's permission to get a mod !
That said, I picked up a couple of mods recently. One on a whim, didn' know why I did it, but the reason became clear.
My friend needed a mod really badly, her silly eGo V3 crapped out on her like they always do….
So I got her a Tesla VW mod.
Not a bad unit, lightweight, goes 3-15 watts. All aluminum with severe vent slots, heh, they put as little aluminum as possible to make this mod.
Light as a feather. Vapes pretty good and keeps my tank fairly cool.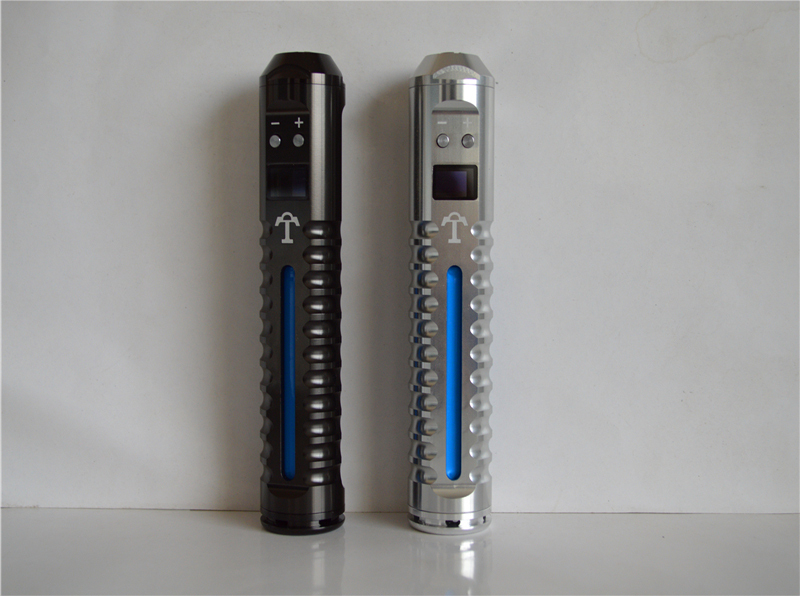 I got the silver one, on the right.
It's got some neat options in the screen display. Came with terrible sigelei batteries, ugh.
So, now my friend is happy vaping, so that's good. I had to pick up a 510-to-eGo adapter for her unit. No problem.
So the BIG DEAL is my E-LVT MINI. It's basically unavailable in most of the world outside of China at the time of this post. Somehow the local vape shop was able to get two of them pre-released, and I  got one of 'em.
You may remember my post of the Dovpo E-LVT… this is Dovpo's Mini version of that mod. And gosh I love it.
I'm going to paraphrase here, this is a review I left on the ECF Forum.
Hey vapers !
Well I got a great oppurtunity I couldn't pass up. I've read about Dovpo's E-LVT Mini online, waiting for someone to carry it for sale.
Turns out none other than my local vape shop had somehow gotten two of them before the Chinese New Year's Holiday. These things are basically unavailable, and the shop was only able to get two.
However ! About the mod ! The E-LVT Mini !
Well, in a few succinct words I can say it's durable, straight forward, well built mod.
This goes from 1.0 – 9.5 volts, or, 2.0-35.0 watts. The display will show you both, with the one you're using in larger font.
So, like the E-LVT and E-LVT 2.0, it's crush proof (zinc alloy body), water resistant (encased in silicone), and durable.
It's much lighter than it's predecessors of course, as it's 1/2 the size. Actually it's a bit wider than the previous models, and longer too, but the overall sq.in. of it is smaller.
Fits so nice in the hand. They're gonna make gray, camo, and blue. For now only blue exists, I like the look of the gray but whatever, easier to find this one , heh.
The Mini does not come with a flashlight, or charging port. It's basically a no-frills awesome mod built what it's supposed to do and not much more. Nice and simple that way.
This Mini seems even more waterproof ('resistant') than the 1.0 or 2.0 as the buttons are underneath solid silicone.
The oLED display is nice and clear. Shows voltage, wattage, battery level, and ohms when fired. Then shows puff time.
It's got an adjustable pin. Remember though this is not ego threaded it is a flat 510 connection, so if you're going to use, say, a device that screws on the outside threads of a normal mod, you'll have to use a 510-to-eGo adapter. Simple enough and cheap.
So here's a pic of it…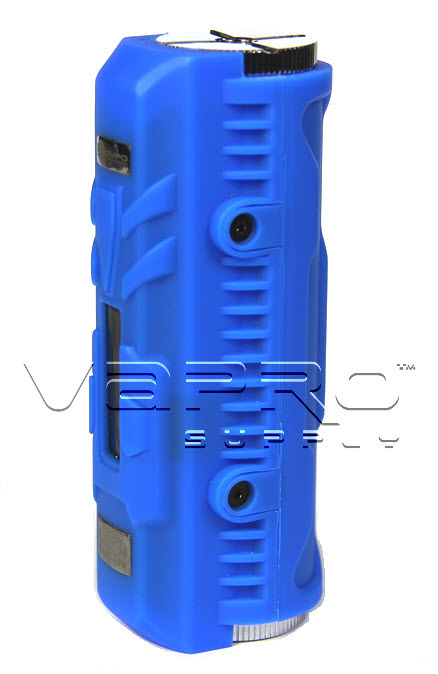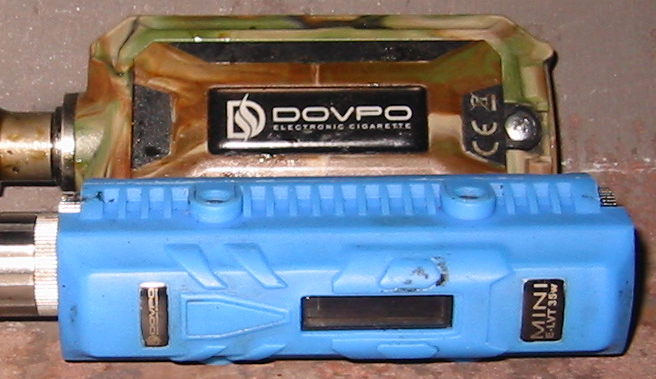 Fires my iClear 30S and my Aspire Atlantis really well, tanks never warms up like my other mods, including the E-LVT 2.0.
It's got an easily opened battery well, no more finding a screwdriver to change the battery.
I prefer to remove the 18650 battery and charge it with my own charger, but the Mini also comes with a way to charge the battery internally. I would imagine this would be a bit slow of a charge.
However, removing the battery is a breeze compared with the 1.0 / 2.0 . Simply spin the dial.
I'll get more pics up tomorrow when it's light out.
SO let's see what else, it has an overheat protection module, When the temperature of the chip reaches 95 C / 203 F the device will stop working and display 'high temp'. Wow, 203 F. And like I said, with extreme heavy vaping there's no heating of the unit or tank.
It's resistance range is 0.2-3.0 ohms. Max Output Current is 14 amps.
It measures 99mm x 31mm x 39.5mm. Madee out of zinc alloy and silica gel.
Also, it's got all the normal APV goodies like short circuit protection, low voltage protection, battery reversal protection.
Oh, and see yes I see now what I suspected was true, the enclosed charger is only 600 mAh which will take 3-5 hours to charge.
Withoutt vaping, if the battery (18650) goes below 3.2 volts it wont fire.
During vaping, if the battery drops below 2.8 volts, it will cease and show 'protection' in the oLED screen. This is important for people who use inadequate batteries, heh. Also the Mini shuts off once it goes over 15 amps output.
Yes, you MUST USE A BATTERY THAT CAN REACH OVER 10 AMPERES CONTINUOUS DISCHARGE CURRENT with this device.
Check your batteries thoroughly. I can recommend the ones I've found to be the best, just message me. They're 30AMP Hi drain with a C rating of 14.2 , made in japan, pretty hard to beat. That's better than a sony vtc5 by the way, heh.
Anyway while that last statement may be debatable, the MINI certainly is not, Its a great unit, I got mine out the door from a local shop for $80.
Unlike the 1.0 and 2.0 you cannot vape while charging, as the charger goes into the firing pin. Again, I recommend a Nitecore Charger and that way you're never out of vape power if you have two batteries. One in the vape, and one charging.
I honestly don't know how long my battery is going to last in the Mini, I just got it today. However I assume it'll be comparable to most APV mods.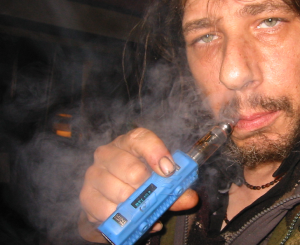 Happy vaping !!
Share: