DNA chipped mods can now use Session mode (Autofire)

Hey guys.
Evolv, the company that makes the DNA chip for mods… has just added Session Mode (Autofire) to their Escribe software, beta release only for now.
Session Mode / Autofire, is, of course, when the mod keeps firing with 1 touch of the button, or in some cases, two or more touches.
Arcitic Fox has always been pretty much the only firmware that has supported Autofire (DNA calls it Session Mode), until now.
Escribe is the software used to customize DNA-equipped mods.
Here are the Escribe downloads that include this beta feature:
Beta Session Mode (Autofire) Downloads for Windows
For the US version, these two:
https://downloads.evolvapor.com/SetupEScribe2_SP44_US.exe
https://downloads.evolvapor.com/SetupEScribe2_SP44_US_ServicePack.exe
For the International Version, these two:
https://downloads.evolvapor.com/SetupEScribe2_SP44_INT.exe
https://downloads.evolvapor.com/SetupEScribe2_SP44_INT_ServicePack.exe
This test firmware adds a "Session Mode".
In Session Mode, the Fire button turns firing on and off, instead of continuing while the button is held.
Session Mode works compatibly with all other functions of the device.
You can activate it on a profile using EScribe Suite, or it can be added to a theme using Atomizer -> Session Mode -> Enable and Atomizer -> Session Mode -> Time. I expect new themes will add support for this, especially since it will be supported on all Color devices. (To activate in Current Profile just Check the Session Box and supply Max Time)
Here's a screenshot of Escribe software showing where the Session Mode is located: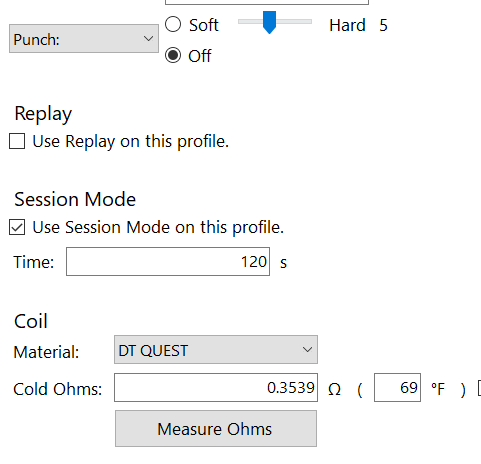 I've found that the Autofire didn't work until I clicked the 'update now' notification for 1.1 INT sp55.1 to the mod.
I am using the International version of Escribe, so your notification may be different.
Confirmed Working on DNA 75C/100C/250C.
To see how to set a TCR value for your DNA mod with Escribe, click here.
To operate Session Mode, just click once, and it will start firing until the time you specified runs out, or u click again.
So folks, if you didn't get a DNA because it didn't have autofire, or you have a DNA…this is WELCOME NEWS for us DT enthusiasts !
.

.
Share: