Kangertech Subtank
Hey, everybody !
So, I picked up a Kangertech Subtank two weeks ago, and I'm a happy camper.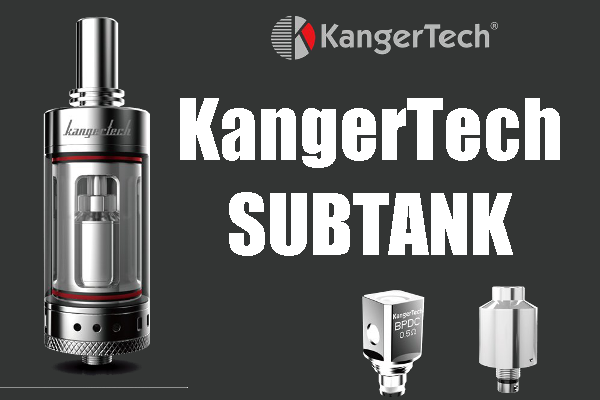 The Kangertech Subtank can be used with ready to go coils from the factory, wicked with organic cotton, or, with the RBA function, where you can use your own built coils and wicks.
Let me first point out that this is the 'Subtank' only, not a Nano or Plus or Mini.
So, the Subtank comes out of the box with the factory coil installed, so I tried that. It comes with an 0.5 ohm coil, and a 1.2 ohm coil. I believe it comes out with the 0.5 ohm coil installed.
Not bad, nice clouds. Decided to try the RBA mode.
Wow, what a difference, the RBA mode is such a better taste and overall experience, in my opinion. This is my first RBA style vaporizer, and it has taught me well. I guess the hardest part was making a good wick. You can order pre-made coil wires measured to 0.5 ohms, which I"m doing now, but soon will buy a roll of wire and make my own. Just found out today the coil is 3/32″ in diameter, a 3/32″ drill bit fits perfectly.
The Subtank holds 6ml of liquid in Factory-Coil Mode, and 4.2ml in RBA mode. The RBA deck is incredibly SMALL, so take note of that. It takes the smallest screwdriver they make, basically.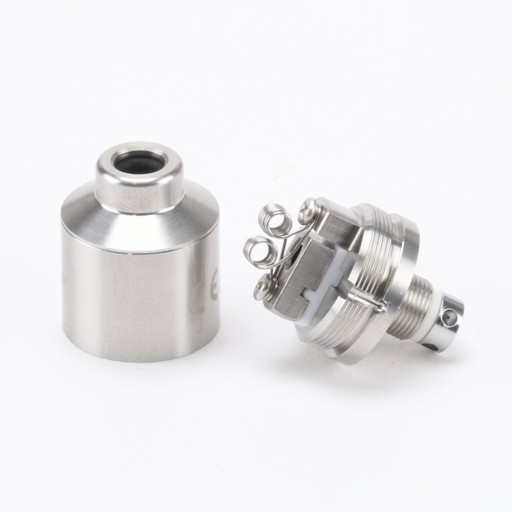 The image above is showing the RBA deck as it comes with the Subtank. Fit to 1.2 ohms with a dual coil setup.
I personally prefer using it with a single coil, and it works great with a single 0.5 ohm coil. You can build your own coil to whatever ohm raitng you like, just make SURE your mod/apv/batteries are all CORRECT for the ohms you will be using. This is IMPORTANT, as it involves personal safety hazards !
The Subtank after 2.5 weeks has absolutely no leaks, and I put it in every possible position. Pyrex tank with thick glass.
The base of the Subtank is 25mm, but it has a nice beauty ring which takes it down to a perfect 22mm.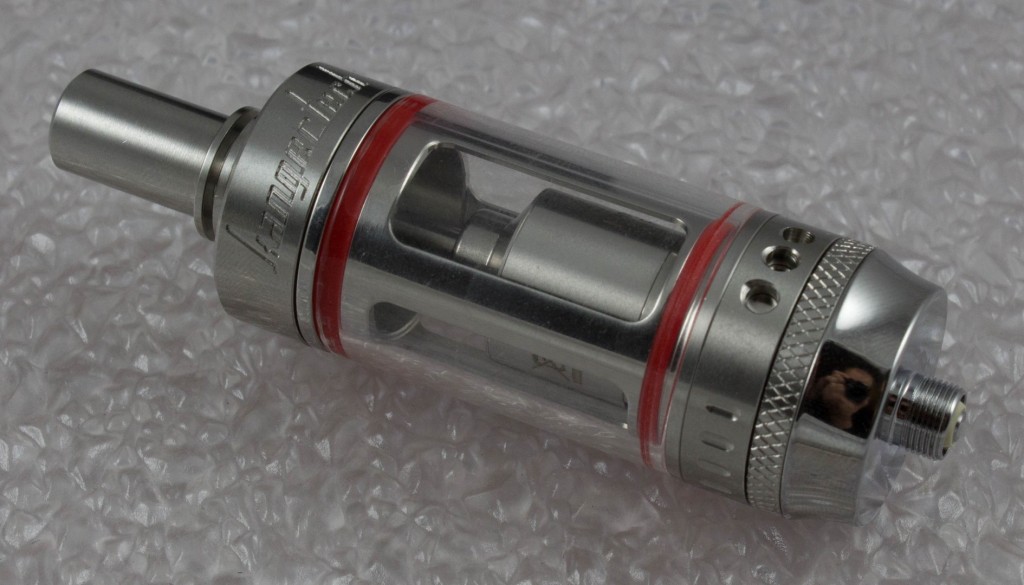 There she is, in all her beauty.
I suppose I don't have to remind you to CHECK your OHMS with an ohm meter before you fire the Subtank in RBA mode. Check for shorts and/or ohm problems. ALWAYS perform all checks before firing in a mechanical mod vaporizer !
This Subtank is a joy, and has introduced me to the wide world of kanthal and organic cotton. I feel accomplishment when I make that perfect coil/wick setup. Here it is on my Dovpo E-LVT 2.0 :

Yeah I know, it's a long drip tip. 76mm actually. Got it from Fast Tech but they no longer carry this one.
Looking for an RBA tank that doesn't leak, chucks clouds, and can also be used with premade coils ? Even if you're only into RBA's , you'll like this one a lot. Save for the small deck, it's perfect. I'm not normally good with small things, but I can handle this deck, so you should be able to also !
Happy vaping!
Share: