The Source ORB Review !
Hello again, vapers!
We had a chance to review the latest concentrate atomizer on the market, the Source ORB.
The kit we got included a pen battery, charger, 7 coil heads, atomizer body. Charger, wax container, tool. Basically all u need to use your concentrates.
So, right out of the box, I decided to charge up the battery. Had difficulty plugging the USB charger into the charge adapter, used a different one I had and it worked just fine. Battery was already charged up.
On to the performance.
First we tried the silica wick coil, without much surprise except for the tremendous airflow we experienced with the ORB. Silica not being our favorite, we quickly moved on to the quartz dual rod coil. Great results. Nice vapor action, great airdraw, and the dual coils are situated to where there is a large surface area for your concentrates to sit on. This was our first experience with quartz wicks, and I must say they work quite well.
Then came time to test what I personally was looking forward to, the all-ceramic 'Terra' coil. After attempting to use it with the included pen, it was deduced that a higher powered battery was in order. So we hooked it up to our E-LVT 2.0 Variable Wattage Mod, and found it works great around 17 watts. Highly recommended. These all ceramic coils will give you the taste of your terps, and the atomizer stays clean with very little splash back.
The atomizer is made of all metal which makes it unbreakable and easily cleanable. Just soak all parts in iso alcohol (99% recommended) and clean with paper towel afterward (do NOT soak pen/battery!).
The airflow is incredible with any of the coils provided. The system has  unique spacing between the air intake, atomizer, and coil, to where there is very little mess. The mouthpiece has a metal screen, which normally presents a problem, but this is far enough away from the coil head as to not be affected by any splash-back.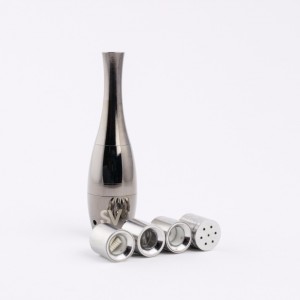 We did not try the dry herb chamber or grated coils, as we've had bad luck with these and are familiar with their design. Our findings are that for dried herbs, only top line vaporizers such as the Arizer Air (reviewed on this site) provide actual herb 'vaporization'. The coil with the grate above it was not used either as all those grates simply clog up and reduce access to the actual coil.
There's also a small 510-threaded mini-vaper included in the kit, which can screw right into your mod with no eGo threading needed, or, into the pen battery provided. It's a neat little one-hitter, and cheap on their site right now. Good for on-the-go tastes.
The kit includes a single quartz wick coil, a dual quartz coil, a terra ceramic coil, a dual ceramic wick coil, a double silica wick coil, a 'dry herb' coil, and another wax coil with a grate on top…. and a mini 510 coil/mouthpiece unit.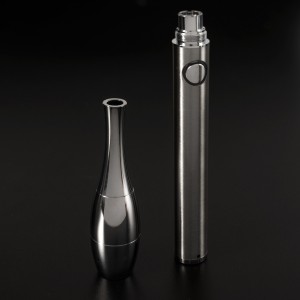 We've seen offers on their site, sourcevapes.com, for just the atomizer and 5 main wax coils. We recommend this as the best purchase if you already have a variable wattage mod. You might need a 510 to eGo adapter for your mod to use the atomizer. This ORB atomizer IS eGo threaded, which makes it very versatile, being able to be used with a wide range of adapters. Just remember if you are using your own mod, it needs an eGo fitting. Recommended wattage is around 15-17 watts for the terra coil, more like 7-10 watts for the others.  Your preference will dictate where you end up.
We've put this atomizer and coil heads to the test ! Happily, we're satisfied with its performance and durability. Easily cleaned and maintained, this is a big hit in our collection and has become our go-to device for concentrates !
SourceVapes is located in San Diego, California. They've designed the Source ORB, a winner in our book. Look them up at http://sourcevapes.com .
Be sure to watch our site for the upcoming VIDEO REVIEW of the Source ORB, reviewed by myself and Hashassin, another author for our site.
See you there !
Share: