Our VELOCITY Review
Welcome back, vapers !
So, here's our review of the Velocity RDA.
We here at The Vapor Ninja are extremely low on funds, so we got a clone made by Tobeco.
In all respects, it's almost identical to the authentic Velocity, so I feel we can safely review it using our clone.
So. Airflow, airflow. This thing has many airflow options, dialed in simply by turning the top section of the rda !
Here's some pics.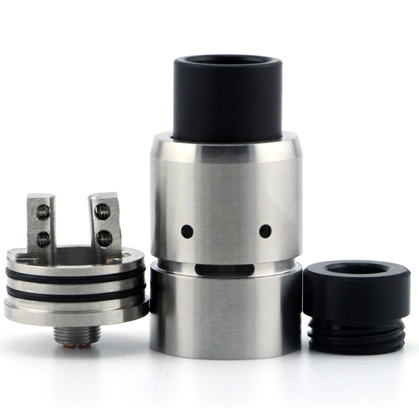 The posts in that image appear to be slightly bent, but our clone had no such bend.
So you can see the top holes and the bottom slot, all for airflow. This thing can go from literally breathing thru a tube to comepltely closed off and everywhere inbetween. You can choose to completely close off the upper or lower holes, or have them both open. The top spins downward with a clockwise turn and thus closes the lower vent.
This is achieved with a small notch on the inside of the top section, which prevents the lower section from spinning while you adjust it.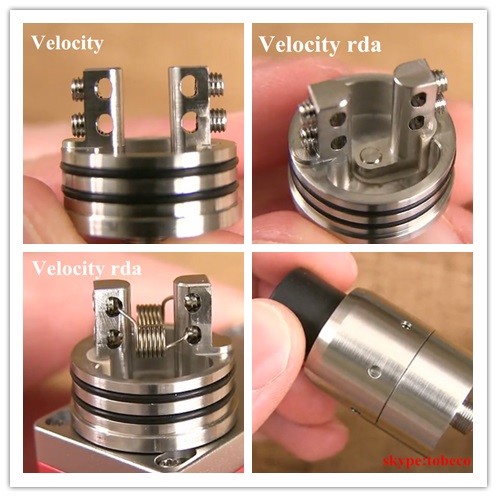 There's some images of the deck, and a shot of the RDA in fully closed position. Note how easy it is to build, and how much room you have for coils. This is an absolute dream to build on, and a great RDA for 1st-time builders.
It uses hex screw grubs and can be fitted to hold 4 coils if desired. Here's a pic of it with four coils :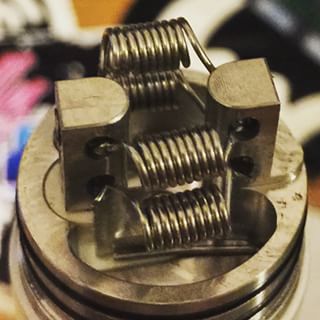 Pretty snazzy, eh ? I haven't tried a quad yet, happy enough with a dual for now.
Here's another image.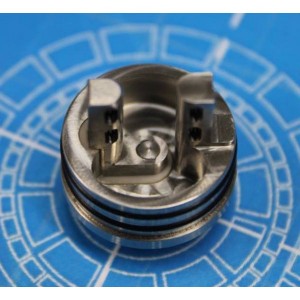 So, all in all, this is a GREAT RDA. I wanted to share one more image with you guys, of a glass top piece available for the Velocity. We haven't received ours yet, so we can't give a review on it, but it looks good and I thought the viewers would be interested in this option.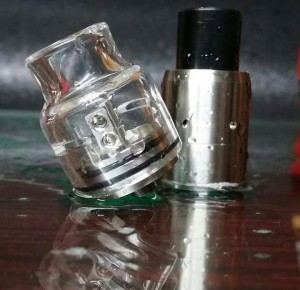 This top glass piece is available at www.trinityglasstanks.com .
What else can we say ? The Velocity makes great clouds, great flavor, and is a breeze to build on !
Highly recommended. That's all for today folks, vape on.
Share: